Ragga Twins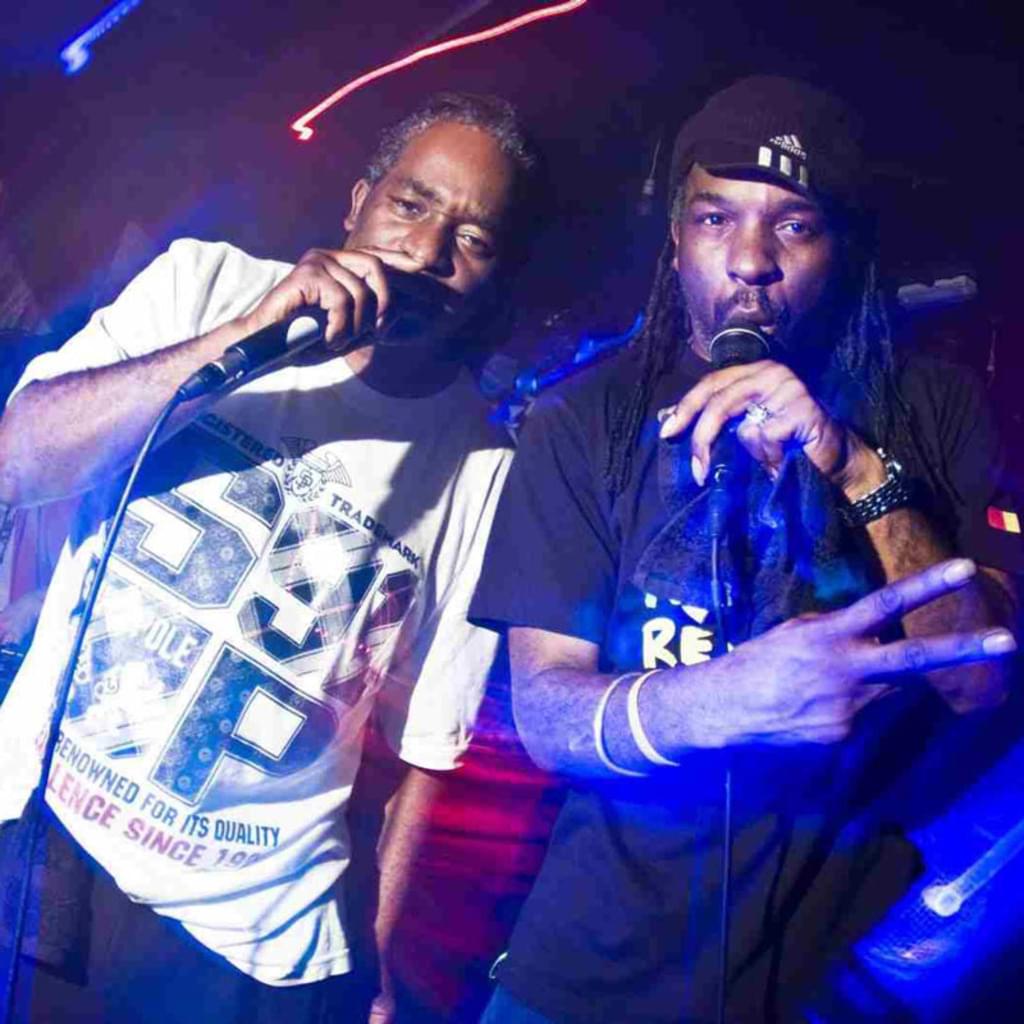 From 1982 to 1990 Flinty Badman & Deman Rockers could be found ripping up the reggae dancefloor on sound system from around the NE London area, but it was on Unity sound that they made their name, playing all over England. Early recordings on Unity label includes Iron Lady by Deman Rockers which was videoed for a documentary about Margaret Thatcher aka The Iron Lady, he also recorded Ugly Gal & Chuck It featuring Jack Wilson, Flinty recorded track like Gunman, Stush & Mi lover Gone featuring Richie Davis.
Between 1985 & 1990 Unity was the top sound in England, people all over the world still have Unity cassettes of various dances, sound systems came from Jamaica, where dancehall originated and found it very difficult to play against Unity because of the array of music and the style of lyrics and chatting that they would come up against, Deman Rockers & Flinty Badman were hailed kings of the dancehall in England...
The Ragga Twins
In 1990 we stopped working on sound system & hooked up with SUAD (shut up and dance) two producers/rappers who was doing very well on the hardcore scene. They sample Deman's voice of a Unity cassette to use in one of their single's and approached deman to use it, he let them use it in return that they would record some vocals with us. When we went to see them to our surprise it was PJ who we went primary school with & Smiley who we knew through the sound system days. They wanted to mix the ragga with the hardcore, we recorded tracks like SPLIFFHEAD with the hook RAGGA TWINS DEH BOUT,HARD DRUGS,HOOLIGAN 69,ILLEGAL GUNSHOT,JUGGLING & that's when Ragga Twins was born & that is the beginning of what we call JUNGLE/DRUMnBASS today. We recorded an album called REGGAE OWES ME MONEY not because it actually owed us money but the fact the we put so much work into reggae music and was not getting our rewards for it, reggae will always be our first loved music.
The Ragga Twins - Hooligan 69, Shut Up and Dance
The album Reggae owes me money reached number 26 in the national album charts & number 1 in the national dance charts & is still a collectors. We toured the UK & Europe & performed at Limelight's in Manhattan USA,we also supported SHABBA RANKS on his UK tour, we also performed Sliffhead on Dance Energy hosted by Normski, Ragga Twins also recorded another album for SUAD which was never released.
In 1993 the versatile Ragga Twins hooked up with US3, Mel & Jeff, two Jazz producers. We recorded a Jazz album called RINSIN LYRICS which got signed to EMI records. We toured the UK with a band called Eusabi and then released the album in 1995. We done two videos, one in South Africa for a track called FREEDOM TRIAN & One in Las Vegas, for a track called Money. To cap of that era we supported James Brown at a show in Norway. During all this time Ragga Twins never left the Jungle, Mc'ing at all the big Jungle raves, underground raves, festivals & clubs and still going up to this day.